From Saturday December 1st to Sunday December 2nd, 2018 was the Ludum Dare 43. The goal is to produce a game which complies with the theme in two days. The theme was Sacrifices must be made.
I made an entry on my spare time (6 hours) : Stones. The principle of the game is the following : you're the Spirit of the stones and have to collect (and sacrifice) them. Will you find the path ? Could you resolve the gods challenge? Is 1min16 is enough for you to succeed ? Let's play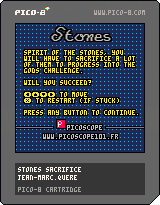 Downloads and Links
– PICO-8 cartridge
– PICO-8 p8 file
– Windows
– macOS
– Linux
– HTML5 (playable in the browser)
– LD43 entry
5611 users s
igned up for the competition.
2601 games were submited.
Stones got the followwing ranking :
According the different criterias the game ranks between the top 6 to 15 percent which is not that bad

A lot of comments about the game were made (thanks to their authors). I will use all the remarks to make a more polished version of the game.
A big shout to all the competitors (you made a game !!!)
Kind regards (and happy new year !!!),
jihem